The Pennsylvania Miss Amazing event celebrates girls and women with disabilities and helps highlight their abilities. Each year this event creates a platform for girls and women with disabilities to meet new friends, develop and showcase life skills and shine to their full potential. We are so proud to have a local, Rebecca Jurchak from Wyoming Area have participated in this year's event and be crowned Queen, placing 1st place in her division.
In 2010 Rebecca was born in Wilkes- Barre with a typical delivery and was not diagnosed with any disabilities. At her 6 month check-up she was not meeting her developmental milestones so her Dr. referred her to early intervention. In 2014 at 4 years old Rebecca was diagnosed with a chromosome abnormality called 1Q21.1 Micodeletion. This is a "recurrent genetic change" with a broad range of symptoms from unaffected to more severe symptoms of Autism Spectrum Disorder and seizures. The most common symptoms which are seen in 75% of people diagnosed with Microdeletion is distinctive facial features and mild to moderate developmental delays. Some people have further symptoms of severe developmental delays, cardiovascular disease or heart abnormalities, low muscle tone, flexible joints, behavior problems, mental health issues, and hearing loss.
Despite Rebecca's diagnosis she is thriving as an amazing young girl of 10 in the 5th grade life skills class at Wyoming Area Intermediate Center in the Wyoming Area School District. Rebecca has many passions such as cheerleading, which she has been participating in since she was only 4 years old! She cheers for the GWA Panthers (formally known as the WWWE Panthers in Exeter) and also at the World Cup All-Stars in Scranton on a special needs team called team Fire. Rebecca loves to cheer, dance, make tick-tock videos, as well as travel and get to experience new areas.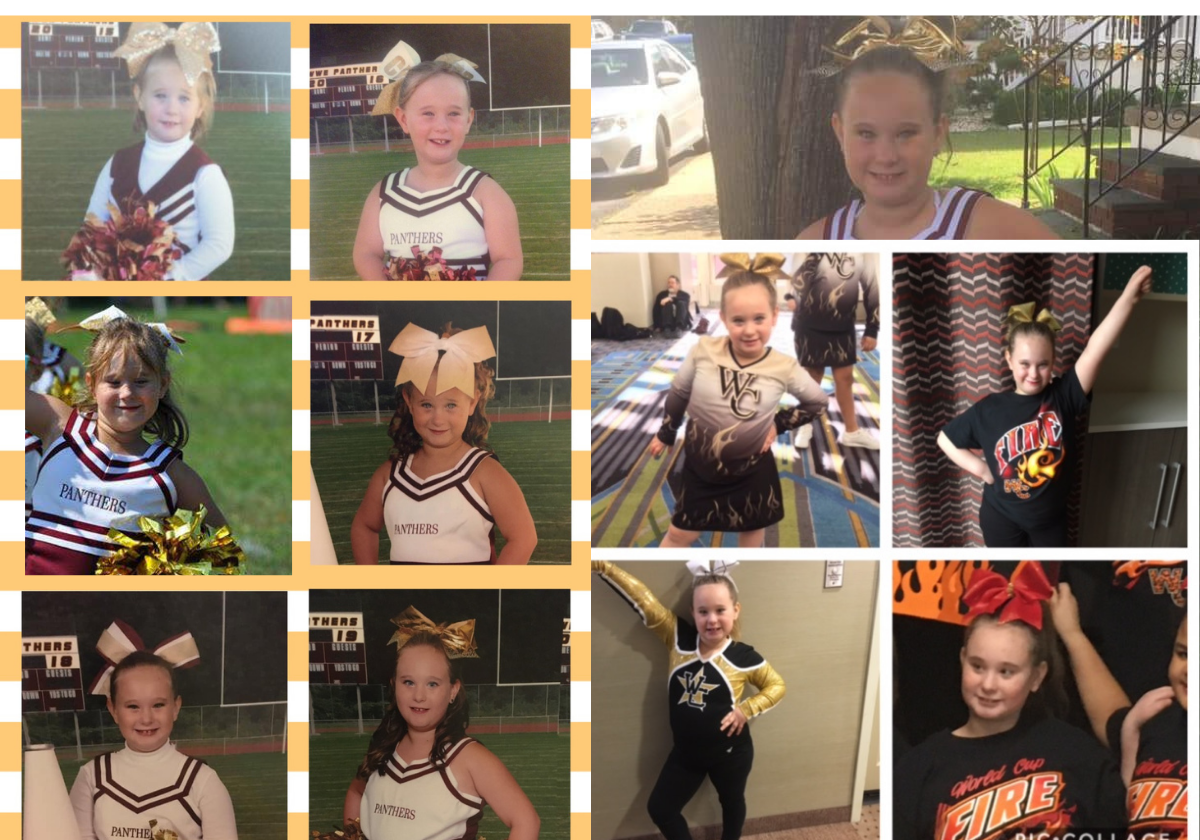 Rebecca started participating in the Miss Amazing events when she was 6 years old. She started in the Rising Star category for girls ages 5-9. This category provides an introduction to girls to experience the Miss Amazing event and gives them the opportunity to introduce themselves on stage, enjoy the spotlight and share some of their amazing accomplishments. This year was Rebecca's first time participating in the Pre-Teen category. In this division the girls participate in an interview, introduction and a passion presentation (formerly known as talent show). All girls are recognized for their participation with a princess crown and trophy and the performances in skilled areas are scored to determine a division Queen. We are so proud of Rebecca for participating in this event and being crowned Queen of her division.
Rebecca spends time preparing for the Miss Amazing event each year by reflecting on her strengths, interests and ambitions. She writes her own introduction which includes her name, hobbies and interests, and at least one ambition.Rebecca spends hours practicing her introduction, interview and cheer dance for the event. Rebecca has struggled with separation anxiety as well as public anxiety. Through this organization and her participation in the Miss Amazing events she blossomed into a strong independent child who has pride in herself.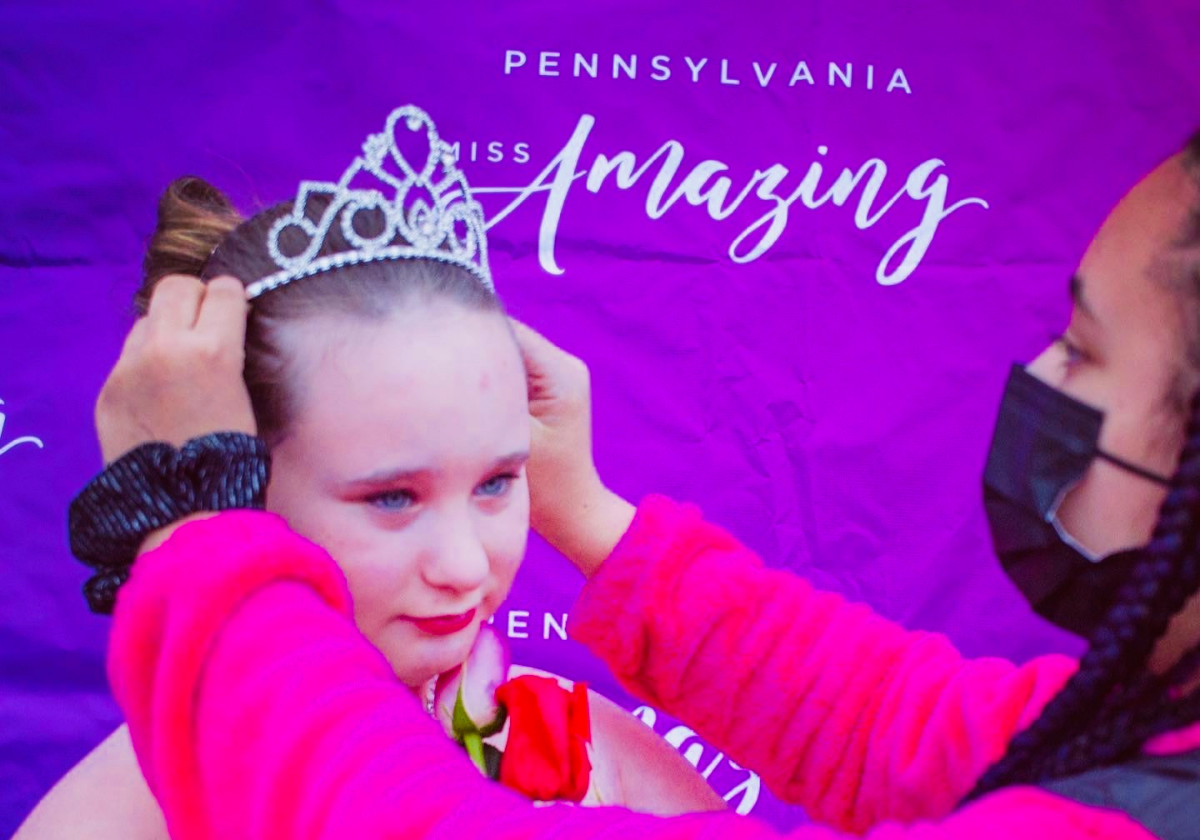 For any families inspired by Rebecca's story and interested in participating in future the PA Miss Amazing Events you can get all the details from their website: pa.missamazing.org or check out their facebook page. Any girl or woman with a IEP, IPP, 504 plan, SSI, or Physician's documentation of disability can participate. An introduction to the event in the raising stars category is for girls ages 5-9 and Girls and women ages 10 to 35 participate in all activities offered at Miss amazing, including all skilled areas (interview, introduction, passion presentation). All participants are awarded for their efforts and one participant from each age division is chosen to represent her age group and state as a Miss Amazing Queen at the National Miss Amazing event. The Miss Amazing organization encourages all miss amazing participants to give back to their communities and Queens are expected to serve a philanthropists and role models through volunteer service work and advocacy initiatives in their local areas. The cost of participating in Miss Amazing is 5 cans of food. The total amount of food items are donated back to the community by the state Miss Amazing queens.
National Miss Amazing is the largest annual celebration coordination by Miss Amazing. State Queens have the opportunity to step onto a national stage while representing their home states, exemplifying the ideals of Miss Amazing, and making countless new friends who share similar interests. Rebecca's family and friends are so proud of her and would like to ask you to consider being a sponsor to help send Rebecca to her first Miss Amazing National event in Nashville, for her 1st year as queen. You can make a donation securely online at https://saq2021.funraise.org/fundraiser/brenda-jurchak. You may also send a check made out to Miss Amazing Inc. to 1109 Parc Dr Papillon, NE 68046 with Rebecca Jurchak in the check's memo.
Thank you Rebeca for sharing your story with Macaroni Kid Wilkes-Barre, for the dedication to your passions, and for being a role model to our community! We hope you will have an AMAZING time at Miss Amazing Nationals this year!
Click here for a FREE calendar and weekly newsletter of family-friendly info, happening and events in the Wilkes-Barre and surrounding areas!