A sensory bin is a great way to engage your little one, it offers a multitude of benefits for their development while keeping them entertained for hours! A sensory bin develops your child's senses through sight, touch and sound. Adding multiple textures and medium to a sensory bin is a fun way to add variety. Some examples of sensory bin fillers include, rice, beans, water, slime, mud, beads etc. Dying your rice different colors is an easy way to add variety and make your bin more visually stimulating and appealing for your child.
Once you have chosen your bin's "filler", then you can chose a "theme" for your bin. In the video seen here the chosen theme was Nature, all of the items that were placed into the bin were chosen to represent something that would be found in nature. Including many different objects with various colors, textures and sizes helps to develop your little one's cognitive and language skills. This allows your child the opportunity to begin learning concepts like sorting, categorizing, problem solving and identifying prominent textures and features. I.e. find all of the things in the bin that are bumpy. Prompting a little one in their exploration of a sensory bin also helps with language development, as it engages them to stop, understand what is being asked of them and then follow that direction. In return it helps a child develop their vocabulary by identifying certain objects within the bin.
Next you will want to provide your child various "tools" for exploring in their sensory bin. By including things like a shovel, rake, sifter, funnel or tongs helps to develop your little one's gross motor skills. This will provide your child the opportunity to practice scooping, pouring, stirring and pincer grasping. This also allows your child the opportunity to develop their social skills. Having your little one take turns with you, or another child or sibling helps them to understand patience, and the valuable skill of sharing.
Sensory bins are a fun, engaging and sometimes even calming activity to add to your parenting toolbox. We hope that you find benefits in adding them to your little one's daily play.
TeaTime4Tots is a local family owned and operated community resource that's mission is to help caregivers navigate Child Development and Engagement in a fun way! TT4T focuses on creating a space for caregivers to come together and interact while also providing hands- on baby and toddler sensory groups. The sessions are focused on fostering baby and toddler developmental milestones and sensory development for little ones under the age of 5. Each session will have a theme and corresponding hands- on, fun and engaging activities that focus on empowering caregivers to engage with their little ones to best nurture milestone development.
TeaTime4Tots is booking now for Autumn Sessions starting in September!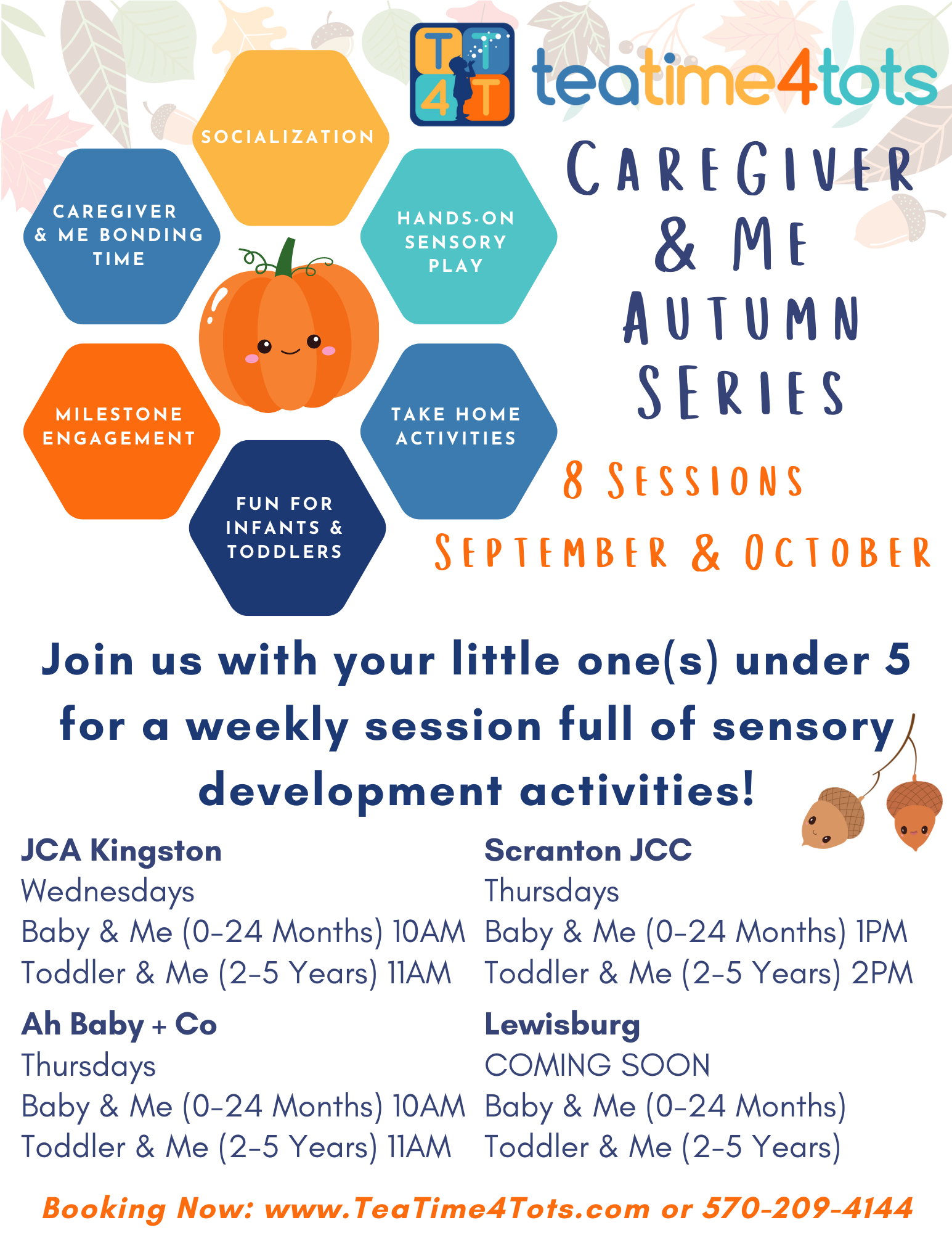 Book Online: www.TeaTime4Tots.com/book-online
For more information, resources, and activities on Infant & Toddler Development follow TeaTime4Tots on